Strength events, for everyone
Check out our event calendar for upcoming events, group trainings and workshop and book your next experience with us!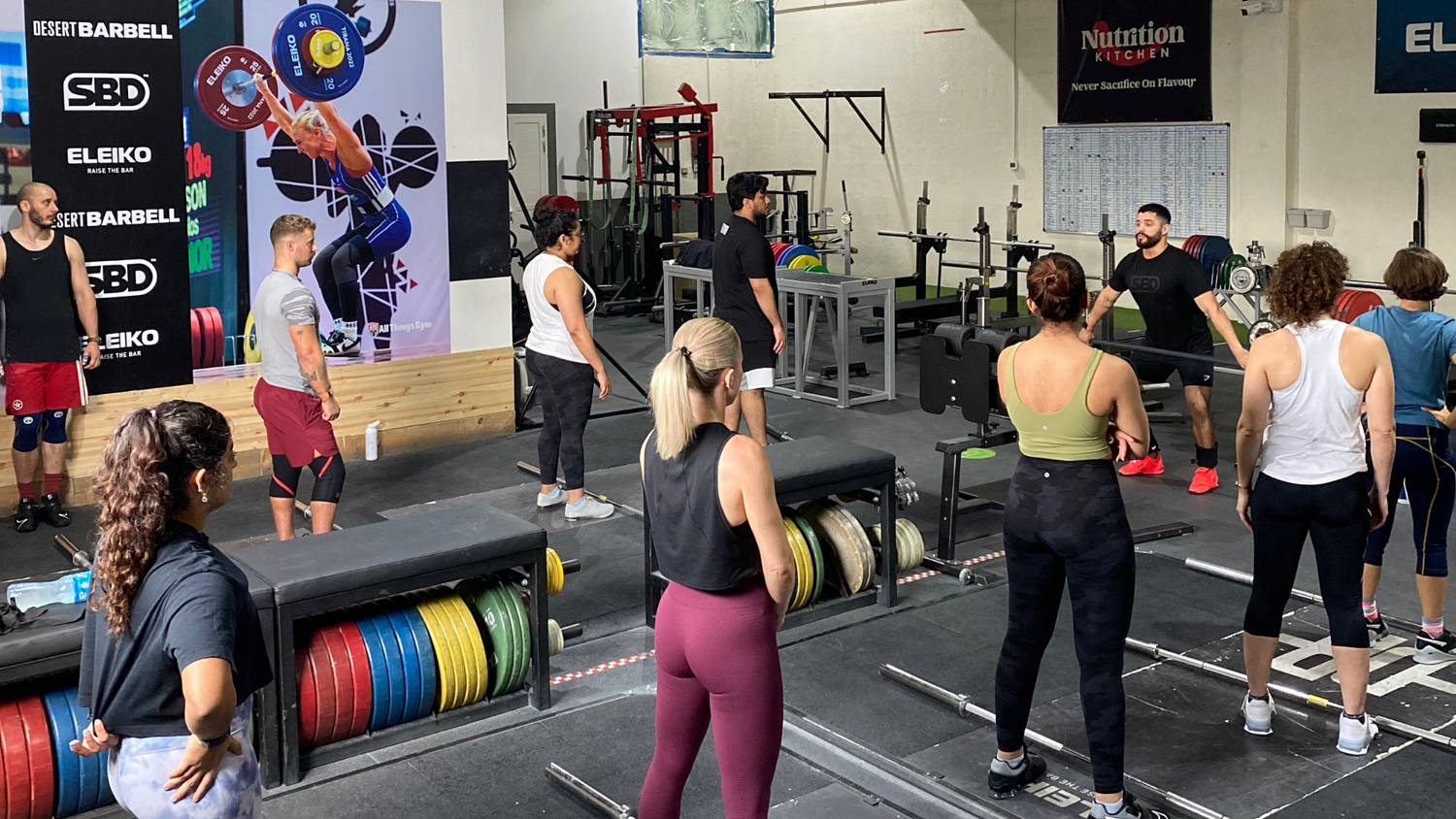 Keep making progress
We run regular group training, events and workshops to continually provide opportunities to learn, network and discover new skills so you can keep progressing in your strength and fitness journey.
From beginner level to advanced, we've got you covered. Scroll our calendar to see and book all upcoming events. Don't forgot to follow us on social media and subscribe to our mailing list to stay up to date with all the latest news.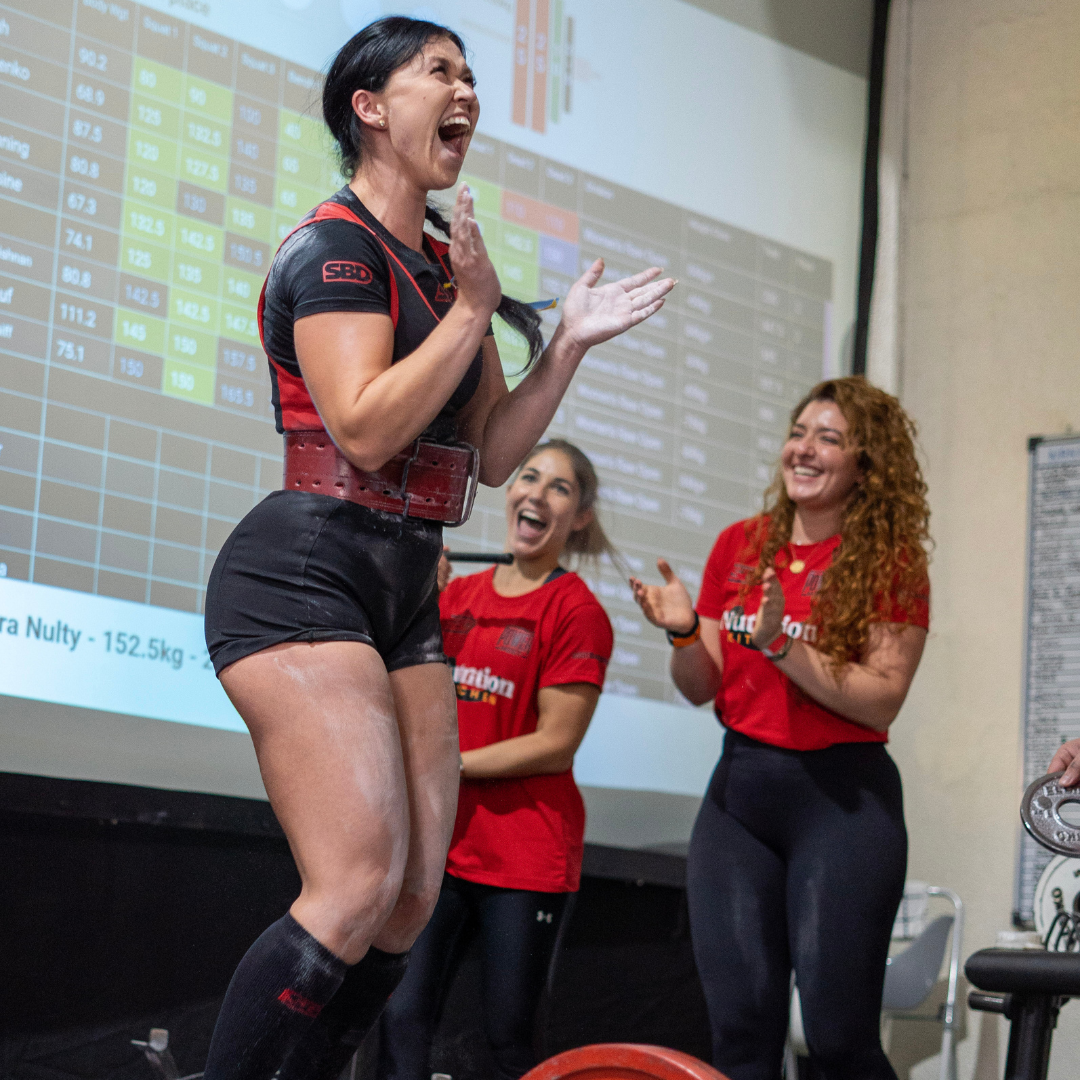 Power Meet
Supported by the UAE Bodybuilding Federation, the Power Meet is a two-day community driven powerlifting competition.
Men and woman from all experience levels and backgrounds gather to test their strength in the squat, benchpress and deadlift. 2023 will see the 13th and 14th edition of Power Meet.
Whether you lift 25kg or 325kg, whether it is your first time competing or you came for the gold medal, everyone gets the same cheer and support.
All the details for Power Meet
What else do you need to know about Power Meet

There is no minimum requirement or qualification criteria. Just be sure to register on time!
We follow the IPF equipment and competition rules and weight classes for men and women
A singlet is required to compete - this is to help promote fair judging for all competitors.
This is ideal for lifters of ALL levels - complete beginners to experienced lifters.
This is a community focused event and suitable for the whole family!
Each event is limited to 80 competitors over two days.
This event is open for men and women to compete.
The Power Meet now serves as the qualifier for the Desert Barbell Classic. New rankings will be posted after Power Meet 9.
The records board started from Power Meet 6 as this is the first event held at Desert Barbell Sports Club - see the records board below.
Desert Barbell promotes 'drug free and drug tested' sports. The Power Meet is now a drug tested event.
Weight categories

Women:

47.0 kg Class up to 47.0 kg 
52.0 kg Class from 47.01 kg up to 52.0 kg 
57.0 kg Class from 52.01 kg up to 57.0 kg 
63.0 kg Class from 57.01 kg up to 63.0 kg 
69.0 kg Class from 63.01 kg up to 69.0 kg
76.0 kg Class from 69.01 kg up to 76.0 kg 
84.0 kg Class from 72.01 kg up to 84.0 kg
84.0+ kg Class from 84.01 kg up to unlimited

Men:

59.0 kg Class up to 59.0 kg 
66.0 kg Class from 59.01 kg up to 66.0 kg 
74.0 kg Class from 66.01 kg up to 74.0 kg 
83.0 kg Class from 74.01 kg up to 83.0 kg 
93.0 kg Class from 83.01 kg up to 93.0 kg 
105.0 kg Class from 93.01 kg up to 105.0 kg 
120.0 kg Class from 105.01 kg up to 120.0 kg 
120.0+ kg Class from 120.01 kg up to unlimited
Power Meet Records Board & Past Results

The records board displays the best lifts in each weight category since the inception of Power Meet. Check-in after every competition to see which records fall, and which ones stand firm. ​Records are the best lifts, but do not represent the diversity of lifters that participate. While it is good to see what can be achieved, and celebrate strength, it is important to know that the Power Meet is a Club competition and lifters of all strength levels and experience are welcomed and equally celebrated.

Current Power Meet records

We try keep our records up to date. Click below for latest records:
Terms & Conditions

We do have some rules in place to encourage fair competition.

View all the T&Cs here.